Profile

One breaks one's neck in living.
((that hideous invention))
Free Account
Created on 2012-11-26 03:59:51 (#1828908), last updated 2013-04-19 (231 weeks ago)
0 comments received, 627 comments posted
7 Journal Entries, 4 Tags, 0 Memories, 15 Icons

About
| | |
| --- | --- |
| Name: | Aleron Grantaire // R |
| Birthdate: | Jul 3 |
| | |
| | |

Mini Bio
"I want a drink. I desire to forget life. Life is a hideous invention of I know not whom. It lasts no time at all, and is worth nothing. One breaks one's neck in living."
-Grantaire in Victor Hugo's
Les Misérables
(trans. Isabel F. Hapgood)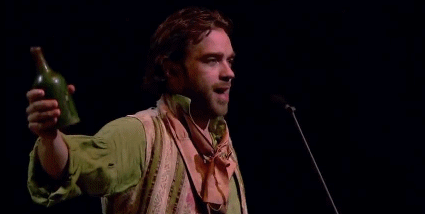 "Will the world remember you
When you fall?
Could it be your death
Means nothing at all?
Is your life just one more lie?"
-Grantaire in the musical's 'Drink With Me'
---------------------------------------------------------
Grantaire will be based on a mixture of the novel and musical. Layout credit goes to

pastries
. Also, the gif above is not mine, and I cannot recall where-from it came; if it's yours, please let me know, and proper credit will be given.

Connect

People
[View Entries]

Communities
[View entries]

Member Of (14):
bakerstreet
,
dear_mun
,
echo_wandered
,
kingdomsofrain
,
lecafe
,
mindfulofmuses
,
musechat
,
musewrite
,
sirenspull
,
sirenspull_logs
,
sirenspull_ooc
,
sixwordstories
,
thenet
,
thetheatrecafe

Subscriptions (11):
echo_wandered
,
kingdomsofrain
,
lecafe
,
mindfulofmuses
,
musechat
,
musewrite
,
ofinfinitetrash
,
sirenspull
,
sirenspull_logs
,
sirenspull_ooc
,
thetheatrecafe

Administrator Of (2):

Feeds
[View Entries]

Subscriptions (0)

Linking
To link to this user, copy this code:
On Dreamwidth:
Elsewhere: